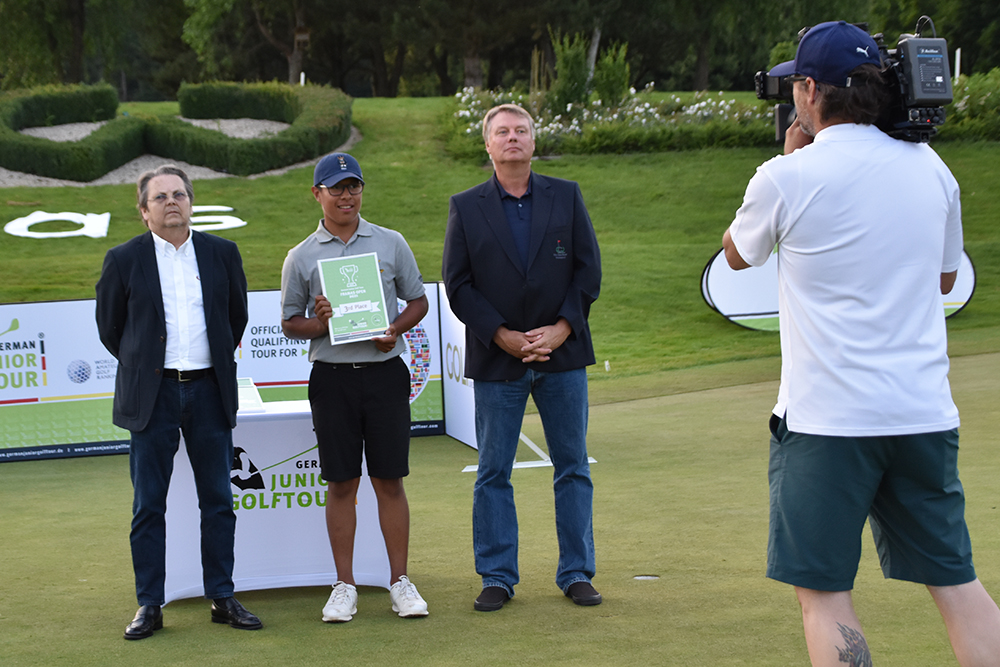 RTL Today: Strong performance at German Junior Golf Tour
"Dedication, enthusiasm, but mostly love for the sport were on show at the German Junior Golf Tour Framas Open 2021 from July 20 to 23.
Three girls and six boys from Luxembourg came together with 34 girls and 114 boys aged 12 to 18 from eight different countries in a four days tournament in Germany to put their best skills to the test.
After 72 holes played in the par 72 Erster Golf Club Westpfalz Schwarzbachtal, the nine juniors of different nationalities showed their resolution to face the challenge with a great performance.
In the category U14-15, Stefan Rojas reached the podium in third place with a score of +1 after four days of competition, while his brother Andrew came 9th with a score of +15 and a great close on the last day, shooting a -2 .
The rest of the boys performed well, the youngest, Alexandr Krämer, in the category U12-13 came 14th with a score of +68 – breaking his personal best during the third round with a fantastic score of +6.
In the category U16-18 Alexandre Dorier finished in 26th place with a score of +23, while Willy Wilgé came 39th with +35. Maxime Morn came 99th with a score of +64.
On the girls side the best result came from Marie Baertz, who finished in 8th place in the age category U16-18 after a strong closing in the last day, with a score of +2 bringing her total to +16. Lisa Steingrube finished 11th with +35.
In the age group U14-15, Emma Lahaije finished in 10th place with a score of +54, breaking her personal best in the second day of the competition with a score of +9.
Two players belonging to the Luxembourg Golf Federation managed to play under par in three rounds between them. Four players also managed to score their personal best in a round of 18 holes during the tournament, showing how much the sport has improved in the Grand Duchy.
The overall champions of the tournament gave an amazing performance. On the girls side, Fehild Grasel scored an impressive -4. On the boys side, Phillip Macionga managed to post a -16. Both players are in the age group U16-18 and both are from Germany.
"Besides the great experience gained in this tournament by the Juniors coming from Luxembourg, the best part was facing the high level of competition because it made us improve every day", said U14-15 golfer Stefan Rojas, adding "we had fun and that was very important too"."
Autorin: Sonia Reyes-Frausto
Beitragsbild/Foto: Tobias Schultz I DIE ECHOLOTSEN
Weitere Fotos und Quelle dieses Artikels: RTL Today